Total Home Systems



Welcome to Total Home Systems
Total Home Systems is the construction end of John's carpentry business and often finds him building custom cabinetry in his new shop attached to his house on the farm, or finds him out in the field remodelling, renovating or adding an addition to a residential or commercial venture.
To View John's Project Gallery - Click HERE
John is well known for his "on-time, get it done attitude" and for this reason alone, many business people seek his advice and company to ensure that timely projects are finished by deadline. John works on a first come, first serve basis, but also schedules work so that all his customers get what they need, when they need it.
Kitchens and Bathrooms
One of the many projects tackled on an almost daily basis by Total Home Systems are renovations to kitchens and bathrooms. With John's exceptional taste and accurate measuring, custom cabinets are often built in-house and installed once walls and finishes have been added. All cabinets built by John consist of quality craftsmanship and hardware, so whether you are just upgrading your existing kitchen or bathroom, or plan a total makeover, Total Home Ssytems are there to make your decisions and choices easier.
Home and Shop Built using Green Technology
Total Home Systems and Woodz2Artz Shop, as well as John W. Cox residence has gone green at their new location, R. R. # 2, 9089 Road 6 S., Harriston, Ontario.
Using Nudura's Integrated Building Technology.
Nudura structures are not only stronger and safer, but they also contribute to a green building process that has minimal impact on the environment, while providing the owner a more environmentally friendly structure that reduces the heating costs offer a more insulated and air tight construction.
Nudura products are manufactured using recycled materials, and offer little waste during construction, with the waste materials being recyclable using local recycling programs, plus using Nudura forms when building emits no HCFC''s or CFC's which are harmful to the environment and wildlife. Because of the process used there is no fear of ozone depletion.
Storage Requirements - No Problem!
Today, more than ever, Total Home Systems is building small storage sheds, garden sheds, and cottage storage boxes both in-house and on-site that store everything from boats to gardening tools. Most of the smaller structures are built in the shop, then delivered, and installed in the location specified by the homeowner. Larger structures are built on-site and usually with guidance from the homeowner so that when the finish product is complete, everyone is happy.
Besides storage sheds, Total Home Systems is now being hired by many to design, build, and outfit backyard entertainment bungalows and structures which often house wood stoves for use during winter months, and fully-functional bars for use during summer months. These entertainment structures make summer parties with friends and relatives a wonderful way to extend your current living space.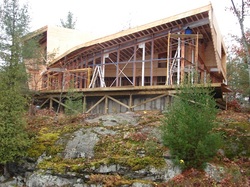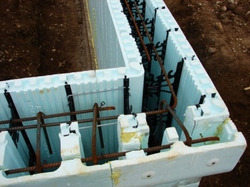 Solutions for a Healthier Home and Work Environment
Because Nudura's fluted insulation panels adhere tightly to the concrete, air gaps are eliminated and prevent the growth of molds, mildews, and drafts. This results in a more comfortable, air-tight space which enables mechanical systems to cool, heat, and ventilate more efficiently to form a healthier working a living atmosphere.
When using the Nudura building system, which is heavily insulated and steel reinforced, air penetration is prevented; therefore, homeowners achieve maximum energy efficiency and much lower operating expenses when it comes to using electricity, oil, gas, or propane heating and cooling systems.
When you compare Nudura's building system to traditional building systems like wood, concrete block, or steel frame, the Nudura system is superior when it comes to withstanding what mother nature throws at it each year, and in a climate with four seasons, that is essential.

Nudura can withstand 250 mph winds, as well as a 3-4 hour fire protection rating.


Vacation Retreats, Cottages, and Buildings
Over the years, Total Home Systems has become very busy in the vacation and holiday industry, often building cabins, cottages, and other outdoor structures and buildings. No matter how big the project, or how small, John at Total Home Systems is well known for adding his distinctive, one-of-a-kind touch to the finished product. You cannot go wrong when you have Total Home Systems design and build your next home away from home.
For additional information:
Total Home Systems
9089 Road 6, South
Harriston, Ontario
519-338-2487
Nudura...Chosen by Industry Professionals
Architects, builders, developers, engineers, and contractors from around the world has chosen Nudura Integrated Building Systems as a viable alternative to traditional building methods because Nudura combines six wall elements into their one product. Using the Nudura 6 in 1 building step, substantial construction time is cut from building projects. The Nudura system go up 25 to 50% faster with a lower capital outlay and also reduce mechanical requirements by up to 75%. The Nudura building system also reduces the need for much of the heavy equipment required when using traditional building methods. Nudura's 6 in 1 building steps include a form system, wall structure, air barrier, insulation, vapour barrier, and exterior as well as interior finish anchorage; therefore Nudura's building system is safer, more energy efficient, environmentally friendly, and much less costly to build making it a natural choice for industry professionals.
Nudura's building system has met or exceeded all building codes from around the world, and have 50 years experience that has been tested to the highest standards.
For additional information, visit:
http://www.nudura.com