Woodz2Artz


Welcome to Woodz2Artz
Woodz2Artz is the artistic side of John's woodworking and carpentry business. Because John is very creative by nature, he takes great pride in designing unique and structurally attractive pieces of furniture and ornaments to grace both the interior, as well as the exterior of any home, cottage, or commercial setting.
John's designs can be found in many prominent homes, offices, and resorts, plus many cottage and cabin dwellers take great delight in including his more whismical pieces in their landscape designs. Fascinated by shapes and woods, since a young lad, John can bring to life and make something spectacular out of a piece of wood, where others will never see or notice its possibilities.
Always the dreamer, John is often called upon to design and built outside recreation centers and entertainment areas for homeowners, to design and built cottages and cabins, and to create worlds of whimsy for young and old alike.




Inside Woodz2Artz Gallery, you will find many fine pieces of furniture, as well as many more whimsical and rustic pieces of furniture and creative, unique structures. Each of these pieces were lovingly created by artisan and master carpenter, John W. Cox. Many of the pieces in these galleries have already been sold, but represent a collection of possibilities.
If you have a project that you feel is right for John to look at, after viewing his galleries, you can contact him at woodz2artz@gmail.com, as he is always ready and looking for new and interesting challenges.
Click here to enter WOODZ2ARTZ GALLERY
Thank you for visiting and enjoy!




Walnut Creek - A Cabin in the Woods
One of the favourite spots on John's farm is the "Cabin in the Woods". This cabin was custom designed and built by John, himself, with the help hands of friends, and although many of his friends and family have enjoyed the use of the cabin and its wonderful pond for family picnics, a romantic weekend away, or a loved ones wedding, no one enjoys it more than John himself. It is a peaceful oasis that takes the daily stress off his busy life and provides him a wonderful place to play.




A Custom Designed Fireplace for a Carpenter's Dream Home
Situated in the middle of the great room in John's new home is the "One of a Kind" fireplace he designed and built. If you look closely, you will note that a bullet that was fired during hunting season - John is also an avid hunter - has lodged itself in the piece of wood John shaped for the centerpiece of his mantle. This unique and ornate fireplace symbolizes John's love of nature and care for the environment, even during building he shows his appreciation for earth and all it gives us.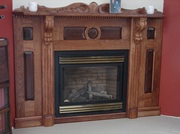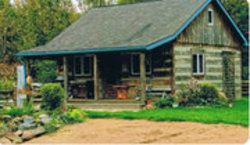 Restoration of a Period Piece Desk
Over the years, John has gained an appreciation for the fine craftsmanship of his forefathers, who built pieces to last just as he does. One of John's passions involves the restoration of antique and unique furnishings found in thrift shops, antique stores, old barns, and an assortment of other locations. The picture below shows one of John's latest ventures...restoring an old desk. Currently, he is seeking matching hardware, or hardware that is as close to original as possible. After all, this old gal has been around for a century and with care will last another one, unlike most of the furnishings sold today, John builds his furnishings like that of days gone by.




Creating Custom Knot Holes
Each year, many people bring to John slabs of trees, cut from the trunks, that they plan to use for tabletops; but unfortunately, either due to improper storage or dryness, the slab has cracked and bits of the bark have fallen off. It is at this time, that John is at his very best...raw wood in need of repair so that it can live again. Using a natural understanding of how trees grow, John often hand-filled the knots with a custom compound he has created and makes them look like natural knot holes or custom cracked veins that streak across the grains. When completed he has stamped his own brand of artistic impressionism upon the surface that will live on in time.




The Woodcarver's Hands
In the Woodz2Artz studio, John takes pride in hand carving custom bowls, spoons, and incense stick burners. Each is unique and carries some special marking by the master artisan himself. You will note that many people who purchase these bowls use them for everything from potpourri to storing thier jewellery.
Another favourite pasttime of Johns is creating unique and personalized walking sticks, which are each measured to the right size, depending on the person's height. John often carves figures into the handles and for the elderly uses a special bent handle that ensures they can rest their weight upon it, plus he also adds a no slip rubber tip. He has also been known to carve entire scenes upon the handle, but of course, those cost a little bit extra.
To view other carvings, click on image below